10th August 2023
Households that quit gas and use only energy efficient, electric home appliances and cars, backed by rooftop solar and battery storage, can save $3,500 a year by 2030 – and $4,320 a year by 2050 – compared to those using a mix of electricity and fossil fuels.
The figures come from the latest major report on the huge cost-of-living savings Australian households can lock in by going all-electric, this time based on modelling from Australia's premier science agency, CSIRO, and Dynamic Analysis.
The report, commissioned by Energy Consumers Australia, is not ground-breaking in its findings – groups like Rewiring Australia have been telling us about the economic benefits of electrification for years.
But it leaves no doubt that getting off fossil fuels in homes and in cars is the smartest economic path for all households.
Some of the biggest savings identified by CSIRO – or, the most "bang for buck" as the report puts it – come from the switch from a petrol or diesel fuelled internal combustion engine (ICE) car to a plug-in all-electric vehicle, at between $1,440 and $1,520 a year.
An added bonus to EV uptake, according to CSIRO, is that once it becomes more widespread it won't just benefit the individuals who invest in EVs – electricity bills for all consumers will likely come down through better network utilisation from EV use.
Of course, the same has been said of the proliferation of rooftop solar and the effect of this on daytime wholesale power prices – and home batteries promise their own benefits to the grid.
In terms of individual household savings, solar and battery systems come a close second to EVs according to the report, delivering savings of between $1,250 to $1,470 a year between 2030 and 2050, compared to fossil fuelled households without solar and a battery.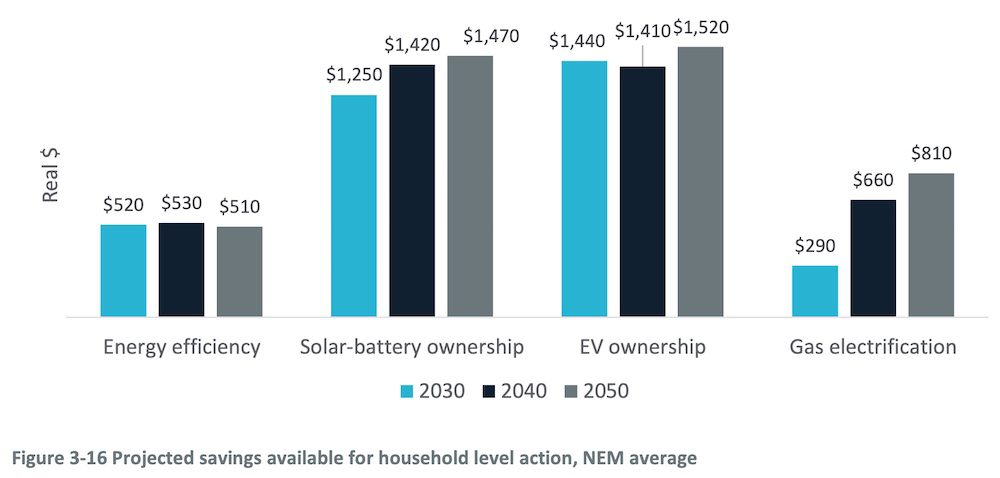 But hese technologies – and particularly EVs – are also the most capital intensive steps to electrification, which is where the ECA's accompanying policy report comes in, calling on all levels of government to "step up" and ensure that all households are able to realise the opportunities of electrification – and none are left behind.
The modelling shows that by 2030 the average difference in total energy costs, including transport, between a typical fossil-fuelled home and an all-electric home will be $2,250 per year, and that's without solar and a battery. Add solar and a battery and the gap extends by a further $1,250 a year.
CSIRO's research also shows that as more and more households electrify all appliances, those that remain connected to gas are likely to pay significantly higher bills due to the need to pay higher network charges to recoup the cost of a less utilised gas network.
You can see this play out in the above chart where the the savings from gas electrification are initially comparatively modest, at around $290 a year in 2030, but balloon out to $810 a year by 2050 as the costs of the gas network increase, "due to a loss of market volume."
According to the report, the total average energy bill which uses the average amount of electricity and gas, 1.7 ICE vehicles and no change in efficiency is $11,060. This increases to $11,110 by 2030.
The bottom line: "Those who remain on fossil fuels will face escalating bills." And so, as the ECA says, "the last households to electrify should be the ones that choose to wait, not those who can't afford it."
"Our research shows there are savings for consumers after they go all-electric – but there are costs and other barriers that make it difficult for some people to do so," said Energy Consumers Australia's interim CEO Jacqueline Crawshaw.
"This report sets out the case for a new national partnership across all levels of government to coordinate the energy transition for consumers.
"There needs to be a clear national plan for households to go all-electric that gives people the information they need to make the transition, provides them with funding and support, and identifies the policy changes needed to ensure no one gets left behind in Australia's energy future."
Please Note: To find more details about electrification, and stories on how to go electric, please visit our new sub-site SwitchedOn. It includes articles, interviews, how-to stories and podcasts on all aspects of electrification.