Solar Heroes are here to help simplify the complex solar industry for our customers.
We are world class Off Grid Residential / Commercial Design / Install Specialists servicing Australia wide
We constantly update with the latest cutting edge equipment and technology
We provide straightforward easy to understand information
We utilise local area installers for all customer regions
We supply Blue Chip Company products
We have the best long term comprehensive warranties in Australia
Helping you achieve the proper balance between your solar power generation and your home or businesses electricity use.  Optional battery systems available for commercial, residential and off grid applications.
(more)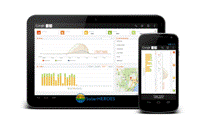 Mobile and remote monitoring systems give you access to check and control your solar power generation, battery status and electricity use anytime, anywhere.
(more)
Services Offered Australia Wide
(more)