Off Grid Solar Specialists Servicing Australia Wide
Specialising in cutting edge system design solutions including complex ground mount solar arrays, remote irrigation powered pump solutions, wind turbine integration and more.  See our packages to learn more or talk with one of our design experts.
Helping you achieve the proper balance between your solar power generation and your home or businesses electricity use.  Optional battery systems available for commercial, residential and off grid applications.
(more)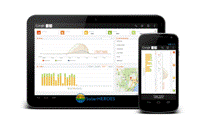 Mobile and remote monitoring systems give you access to check and control your solar power generation, battery status and electricity use anytime, anywhere.
(more)
Services Offered Australia Wide
(more)