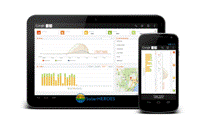 In today's world, the shift towards renewable energy sources is more than just a trend; it's a necessity. Among the various renewable energy sources, solar energy stands out as one of the most accessible and efficient options. A critical component of any solar energy system is the inverter, the device that converts the direct current (DC) generated by solar panels into alternating current (AC) that can be used by your home appliances.
At Solar Heroes, we feature a wide range of solar inverters from top-tier manufacturers, each with its own unique features and advantages. Among these are advanced remote monitoring capabilities, which allow you to track your solar system's performance and energy production in real-time. This article will explore the remote monitoring features of two of our featured brands, Sungrow and Selectronic.
Sungrow: The Power of Cloud-Based Monitoring
Sungrow's inverters come with the iSolarCloud monitoring platform, available for both mobile devices and home computers. To use this platform, you first need to create an account and ensure that your system is connected to your home WiFi. Once set up, you will have full access to the Sungrow platform's monitoring capabilities​1​.
The iSolarCloud app is designed to offer the most important figures at a glance. It provides centralized PV plant management, user-defined performance views, and full plant supervision via multi-dimensional analysis. The platform boasts simple network infrastructure, real-time fault analysis, and quick troubleshooting. It also ensures safe and reliable monitoring with hierarchical access management and redundant data storage over the lifecycle of your plants​2​.
You can download the iSolarCloud app from the Google Play Store or the Apple App Store.
Selectronic: Easy and User-Friendly Monitoring
Selectronic's remote monitoring solution, Select.live, allows you to view real-time data from your SP PRO system. The Select.live web-based portal can be accessed on any internet-connected PC, iOS, or Android device. A small, lightweight, wall-mounted Select.live unit connects to an SP PRO to enable this feature​3​.
The Select.live dashboard is user-friendly and animated. It provides historical bar and line graphs of energies and battery SoC, ranging from hourly to years. It also offers a real-time animated power flow of the SP PRO system and keeps a quick view of system events log, including informative and fault conditions. Moreover, the portal is compatible with different screen sizes, from desktops and laptops to mobile devices​3​.
You can log in to the Select.live monitoring system at http://select.live.
Not limited to the two inverter brands mentioned above, a multitude of others offer monitoring systems of varying complexity. These systems can track real-time performance and energy production of your solar setup, or give you the ability to throttle grid feedback amounts. The complexity of each inverter brand can range from user-friendly interfaces providing essential data, to more sophisticated solutions offering comprehensive analytical and programming capabilities. Given this wide array, it's crucial to understand the specific offerings and how they align with your needs. At Solar Heroes, our experienced team is ready to guide you through this process, providing clear, personalized advice on these intricate monitoring systems. We're committed to helping you navigate the complexities of solar inverters, ensuring you can harness the full potential of your solar energy system.